Marvist as a Thought Leader in Innovative Technology Adoption: One among few SMEs to deploy wireless 4G LTE for LAN
Marvist Digital Marketing, a premier digital marketing strategy consulting services, proved once again its thought leadership and sets itself apart from other companies in Hyderabad. It is one of the few companies in Hyderabad to adopt wireless 3G / 4G LTE network for office network via LAN environment.
Leadership is innovative thinking
Marvist believes leadership is an action not position, and thinks out of box in its business operations. It strives hard to provide better solutions and spread their knowledge to educate people on various aspects. The following details sets as an example for their unique perspective in taking the idea as a challenge and making it successful through strategic implementation. For office network, few days back Marvist searched various internet options to have it as a backup for regular broadband connection. The idea was to have alternative network service for ensuring internet redundancy and business continuity. Tried various vendors for DSL and FIOS connections and came to know about limited availability of service in office area. Instead of going for another out-dated wired broadband connection, Marvist wanted to try something different that is more sustainable and uses latest technology. We took this situation as a challenge to solve. Then we ideated about possibility of using 4G for office wired LAN.
Research work, patience and determined pursuit for successful technology adoption
While the idea was promising of using 4G for receiving Internet and distributing that inside the office LAN, no one was able to guide and no articles found on this matter. 4G and the reduction in prices made it viable to consider SIM based 4G wireless connection as the source for office internet. Tried initially to make the existing routers to use an existing USB port, but realized the USB was meant for printer and not for receiving Internet to the modem. We also tried to configure the WAN port using WAN RJ45 to USB port that would connect to dongle. Even that didn't work.
We realized that we needed a new router device. So the next option was to find a router that could either take a SIM card or a USB SIM dongle. The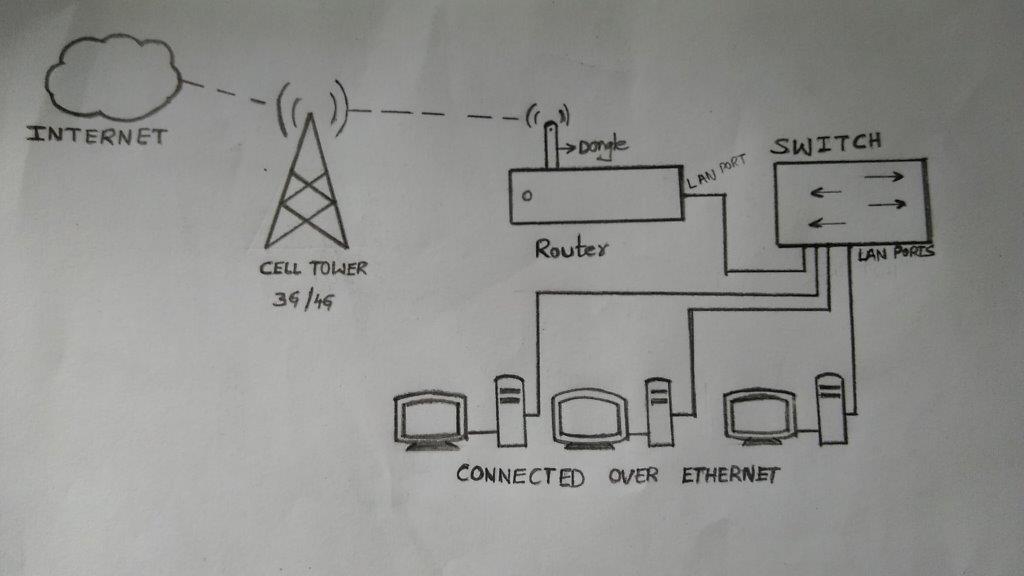 USB SIM dongle was viable but the challenge was to find a non-Chinese dongle that could support Reliance Jio. This was a security enhancement requirement. After several steps of research, we identified D-link as the suitable router for 4G LTE connection sharing. Our researchers reduced the speed of execution by buying locally when possible. For USB dongle, we procured the product right away from Datamatics in Minerva complex and started testing instead of waiting for online delivery. For the router we had to wait for 4 days. First day, internet didn't work and we had to make several calls to D-link. The service was good and they were able to provide some tips.  But the day ended in frustration as the Internet could not be configured. Next day we tried again and on first attempt Internet started working.
Success at last! It's an end to our 2-3 months of effort on this project. Sweet victory!
Deployment in corporate environment
We removed the second internet connection from the networking UTM device and tested.  We just wanted to make sure the new wireless network is reliable, before cancelling the existing connection. We are still continuing the tests and executing ping tests for hours to check for disruptions. The connection is reliable as far as ping test is concerned. Yet, need to test the setup for network load.
Thought leadership and sharing knowledge
As thought leaders, we like to share our learning experiences and spread the knowledge of valuable information to our audience of professionally run small and medium businesses. Those who are interested in implementing the same can go through the details about technical devices used in the deployment.
Technical devices used in the deployment
Router
Product Name: D-Link 4G LTE Wi-Fi Router
Model No: DWR-116 Wireless N300 Multi-WAN Router
Description: High Speed Mobile Broadband
Supports the latest 4G LTE and 3G connection technology for super-fast mobile broadband through optional USB dongle
USB Dongle
Product Name: D-Link 4G LTE USB Modem Adapter
Model No: DWM-222 4G LTE USB Modem Adapter
Description: Portable travel Modem
High speed access to the Internet using 4G technology
Posted In Blog
This entry was posted on Saturday, June 24th, 2017 at 7:17 am and is filed under Blog. You can follow any responses to this entry through the RSS 2.0 feed. Both comments and pings are currently closed.