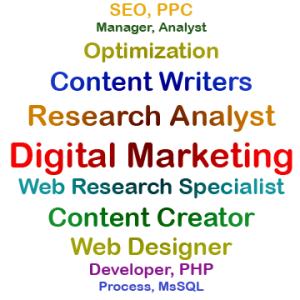 Welcome! Over the last 10 years, Marvist Digital Marketing has earned the gratitude of thousands of international clients with its expertise, professionalism and commitment to Marvist values.
We have career openings for enthusiastic people who can help us serve our clients – people who are talented yet have the right attitude to comply with the company's core values.
At Marvist, various specialists work as a team on typically more complex SMB projects to successfully overcome the challenges and gain appreciation of the client. Marvist Digital Marketing has a great collaborative work culture with focus on recognition of performance and result-orientation towards clients.
Career Opportunities at Marvist:
Marvist has opportunities for Freshers as well as for experienced professionals looking for mid-level positions. Below are the details of current openings at Marvist Digital Marketing at various levels.
Entry Level Openings:
Digital Marketing Specialist (SEO)

Urgent Requirement
For all the above positions, we prefer candidates with minimum 6 months of experience in any field. Freshers with strong commitment to perform and realistic expectations are welcome to apply.
Non-Entry Level Openings:
Openings at Senior executive/analyst and Asst. Manager level for these areas
If you are interested in any of the above positions, send an email to careers@marvist.co.in.
Mid-Level Openings:
If you have strong managerial skills, values and a good work ethic then Marvist is open to discuss and explore the options for your career here. Prior digital marketing industry experience in NOT mandatory for many of the positions.
Dy. Manager HR & Recruiting
Head – IT Infrastructure
Team Leaders
Please feel free to reach out to shivapriya@marvist.co.in in case you believe you are a good match for Marvist's Mid-Level Positions.
Leadership Openings:
Marvist welcomes energetic, committed leaders with a willingness to work for long term objectives and to further build the existing high quality organization. We consider positions from Asst. Vice President onwards as leadership positions.
We expect the aspiring senior leaders at Marvist to inspire the managers, associates and co-workers with their skills, expertise, values, work ethic and specialized knowledge.
We believe in adding fresh talent from outside to our in-house leadership will help take the organization to the next level. Please feel free to reach out to avp-hr@marvist.co.in. In case you believe you are a good match for Marvist's Leadership Positions.